Description
Click on the vehicle type that best matches your vehicle.
View the example images. Each image has a "Product Code".
Check the pricing at the bottom of the page matching your chosen "Product Code".
Request a quote here and quote the "Product Code" in the message field.
Please Note – Fleet Discounts do apply.
Check out our "HOW DO I GET MY VEHICLE WRAPPED" guide to help you with your purchase.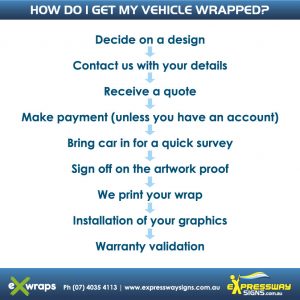 DOWNLOAD VEHICLE WRAP PROCEDURE
Note – Vinyl wraps are not a substitute for a poor paint finish on your vehicle. If your vehicles existing paint surface is not in a good state then EWS accepts no liability for adhesion issues. Talk to us about what is and isn't possible with vinyl wraps.
Car Wraps | Boat Wraps | Plane Wraps | Helicopter Wraps | Car Decals | Car Stickers | eXwraps