Description
TR1 – $220 – $320 Price allows for single colour cut vinyl text or a digital print of your logo applied to each side door.
TR2 – $280 – $420 Price allows for 2-3 colours of cut vinyl text applied to each side door.
If you wish to proceed to an order or quote with us then click here and quote the "Product Code" in the message field.
Note all pricing is indicative only, excludes GST and assumes that you can supply your logo to us digitally.
All pricing includes; Design, supply and installation to an approved mock-up at the Expressway Signs Factory in Cairns unless otherwise agreed.
Don't see what you're looking for? Just click here and let us know how we can assist you.
Check out our "HOW DO I GET MY VEHICLE WRAPPED" guide to help you with your purchase.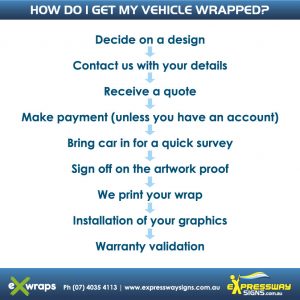 DOWNLOAD VEHICLE WRAP PROCEDURE
Note – Vinyl wraps are not a substitute for a poor paint finish on your vehicle. If your vehicles existing paint surface is not in a good state then EWS accepts no liability for adhesion issues. Talk to us about what is and isn't possible with vinyl wraps.